The Coronavirus has severely impacted our lives, bringing unprecedented pressures around the world, but amid the crisis Orion Homes have been hearing some very uplifting news from residents at our developments across Yorkshire.  They have been making the most of life in lockdown, giving us inspiration on how much we can enjoy our time at home while strengthening bonds with our families and neighbours. It has also shown us how Orion developments grow and thrive as communities, creating new friendships as well as new homes.
The luxury of time
The lockdown restrictions have left most of us with plenty more time on our hands. In streets up and down the UK, it has become common to see people busying themselves with home improvements: repointing brickwork, repainting window frames, fixing fences and numerous other tasks have suddenly received attention after years on the backburner.
If you live in a pristine new Orion home, there are no such chores to occupy your day, so you need to think of something else to do. We've been pleased to hear that our homeowners have been putting their spare hours to excellent use.  The luxury of time has stimulated their positivity, creativity and social instincts.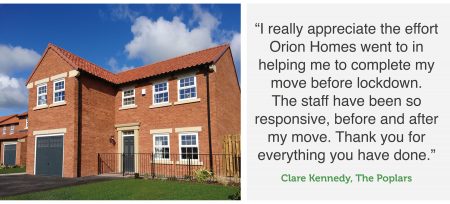 Building relationships – near and afar
It's a curious irony that, rather than reducing contact with others, self-isolation has prompted many of us to make more of an effort to engage with our social circle and communicate with those around us. That's certainly the case at Orion's developments, where our residents have used video chat apps like Zoom, Skype and Facetime to have regular catch-ups with friends and extended family in other parts of the region and further afield.  They have also been establishing new relationships closer to home as they get know other residents on the development.

Orion Homes tend to build fewer houses on our developments in comparison to many of our competitors. That has fostered a more intimate social environment for our homeowners, making it easier to develop new friendships. At The Poplars in Brayton, a development we launched a year ago, they have taken every opportunity to chinwag (from two metres apart, of course) including each Thursday night when everyone steps out of their front door to clap for carers and show their appreciation for the NHS. Some neighbours have arranged curry nights, setting up al-fresco dining furniture on their driveways and indulging in a chicken Madras while shooting the breeze at a safe distance!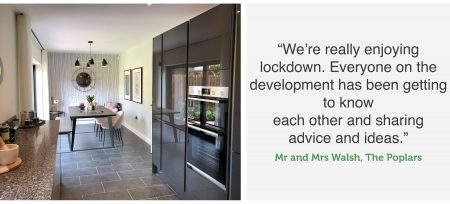 New WhatsApp groups have sprung to life, providing an instant platform to share ideas on coping with life in the shadow of Coronavirus. Covering everything from gardening tips to quiz nights, home schooling options and local businesses to support, The Poplars' online community has built in tandem with the building of our homes at this popular development. One resident was struggling to get fruit and vegetables, but neighbours messaged a recommendation called Hello Fresh and their problem was solved.  Similar stories have unfolded at our Vicarage Meadows development in Holmfirth and our Jubilee Gardens development in Gilberdyke – there is a genuine sense of everyone coming together to help each other in these challenging times.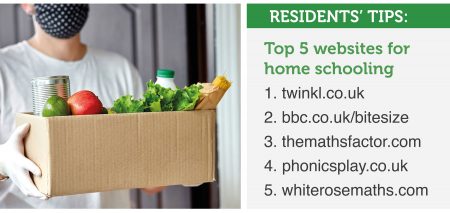 Precious family time
Families make up a large percentage of Orion Homes' customers. Their needs are ideally suited to the spacious three, four and five bedroom homes on offer across our current developments. Many have seen lockdown as a chance to maximise precious time with the children and they have commented on what a joy this has been with the benefit of a beautiful new house designed to cater for busy family life.

Being confined to the home has heightened their appreciation of its many family-friendly qualities, including versatile space and ample accommodation to keep the kids entertained. Many parents have enjoyed involving their children in fun tasks such as home baking, which brings us to another aspect of lockdown life which has come to the fore…
Busy in the kitchen
The kitchen is the hub of everyday life in most homes and, for many of our residents, this key room has really come into its own. With pubs and restaurants no longer an option, people across the UK have become much more active in the kitchen and our homeowners are no exception.  A substantial dining kitchen with a host of high-end fittings is a signature feature of an Orion home. At The Poplars and Vicarage Meadows, having generous open-plan space and luxury Bosch appliances at their fingertips have stirred our residents' enthusiasm for experimentation. They have been exploring new ingredients and leaping out of their culinary comfort zone with challenging but rewarding recipes. Some have baked their own bread or tried out the home-made approach to takeaway staples such as pizza.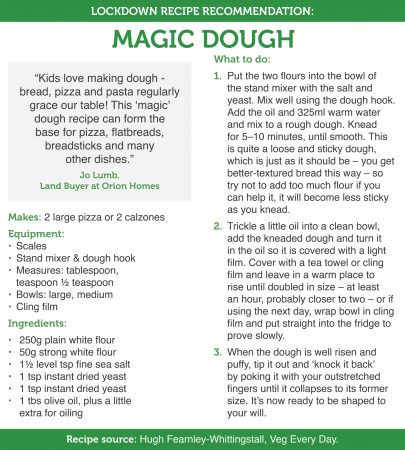 The great outdoors
The threat of Coronavirus is keeping us indoors for most of our day, but it's still possible to enjoy the outdoors with time in the garden and our daily exercise allowance. It's another aspect of life which is well served at Orion's developments. Our sizeable turfed gardens provide a blank canvas for horticultural creativity and green-fingered residents have been lovingly perfecting their outdoor space, adding a burst of spring colour and preparing new flower beds in time for the imminent arrival of summer. Mr and Mrs Jarvis have been the busiest gardeners at The Poplars – as the below photographs show, they have completed a remarkable amount of work within a short space of time. Others have preferred more leisurely garden activity, relaxing with a cold drink on the patio and taking advantage of the fine weather with an early barbecue.

Some of our residents like to take in their fresh air a little further afield, with a local walk or bike ride, and Orion's choice of location for our developments always has that lifestyle option in mind. At Vicarage Meadows, our residents can step out from their front door and stroll a few metres to public footpaths following miles of rolling hills and scenic valley landscape. Jubilee Gardens is linked to vast expanses of surrounding countryside via adjoining footpaths as well as being next door to a picturesque park at Jubilee Memorial Pond. Having all that on your doorstep has become a priceless amenity in the context of the travel restrictions imposed by COVID-19.

It's often been said that life will never be the same after Coronavirus. The remark usually carries a negative implication, but it could find a different interpretation. Based on what Orion Homes have seen happening at our developments, things certainly won't be the same: people have forged new friendships, discovered new passions, established healthy new routines and renewed their appreciation of time with love ones.
The consequences of Coronavirus have been universally disruptive and too often tragic. It has given us all pause for reflection about how fragile our lives can be. When this crisis eventually passes, we can learn from the example of our residents: cherish life and embrace everything it has to offer.