At Orion Homes we always put our customers first, but you don't have to take our word for it – read what some of our previous purchasers have had to say about us.
"Buying our Orion home is the happiest decision we ever made. Ben and I used to walk past our house being built, wishing that one day we would be able to live in a home like that… within less than a year, Orion made that possible.
"Throughout the potentially stressful process, the team at Orion made us feel at ease, from picking our choices to managing solicitors and mortgage processes. Orion have been professional and supportive every step of the way, making us feel valued and cared for, there was always someone on the other end of the line for advice.
"Once completed, we have maintained a strong relationship with Orion who are still available to discuss any queries we have had with the property. Now we are finally in and settled, we are so delighted we made the decision to purchase an Orion home. The layout works perfectly for us and all the finishing touches are to the highest quality, it really is a stunning home that we are proud to call ours."
"We have recently purchased an Orion Home in Wakefield and have moved into our forever home and we love it.
"The sales team at Orion have been a great source of support and have guided us through the whole process, from signing for the house and putting our deposit down right through to receiving the keys to our house.
"We love everything about the site at Wrenthorpe, the estate has plenty of room and space for cars to park and not to mention the garden sizes, which is not something that is common with new build sites. Orion have been fantastic and made the process of moving so much more smoother for our family. Thank you."
Mr & Mrs Percival – Leafield Gardens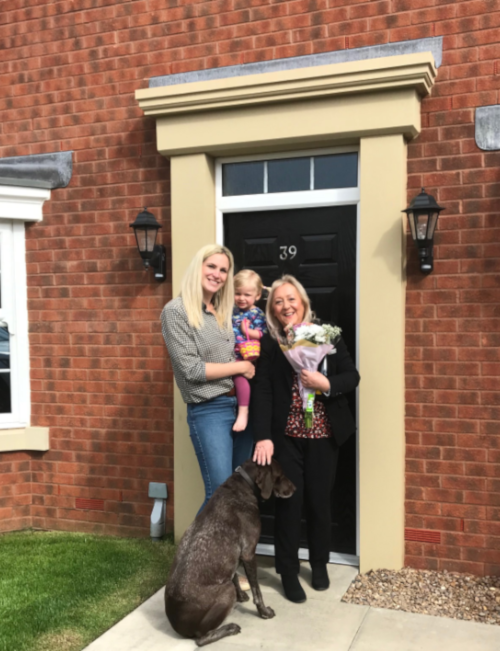 "Enormous care has been given to the construction of our new house, built by Orion Homes at the Poplars in Brayton, from design to completion. This, combined with the sustained and friendly personal support provided by the customer care team, has filled us with a great deal of satisfaction and pleasure.
"It's the personal touch that allowed us to choose from one of four differing designs of four bedroomed detached houses on this small development, that's reflected in the special features in the brickwork of the exterior and in the choice made of internal fittings. All display a high quality of selection and professional finish by the architects and construction team.
"Our new home celebrates all that is new in technological development. From insulation, through energy and water consumption to superfast broadband Orion have ensured 'The Poplars' has the best of equipment installed to meet all our modern needs.
"We have been hugely impressed with the support Orion have given us throughout the purchase and into ownership. Their small and friendly team are but an e mail or call away from helping whenever it seems necessary. This is the value of a local building team working to support the community.
"Ours is a house that is built to last. It is solid, beautifully constructed, elegant in appearance and a joy to live in!"
Karl and Pat Jarvis – The Poplars